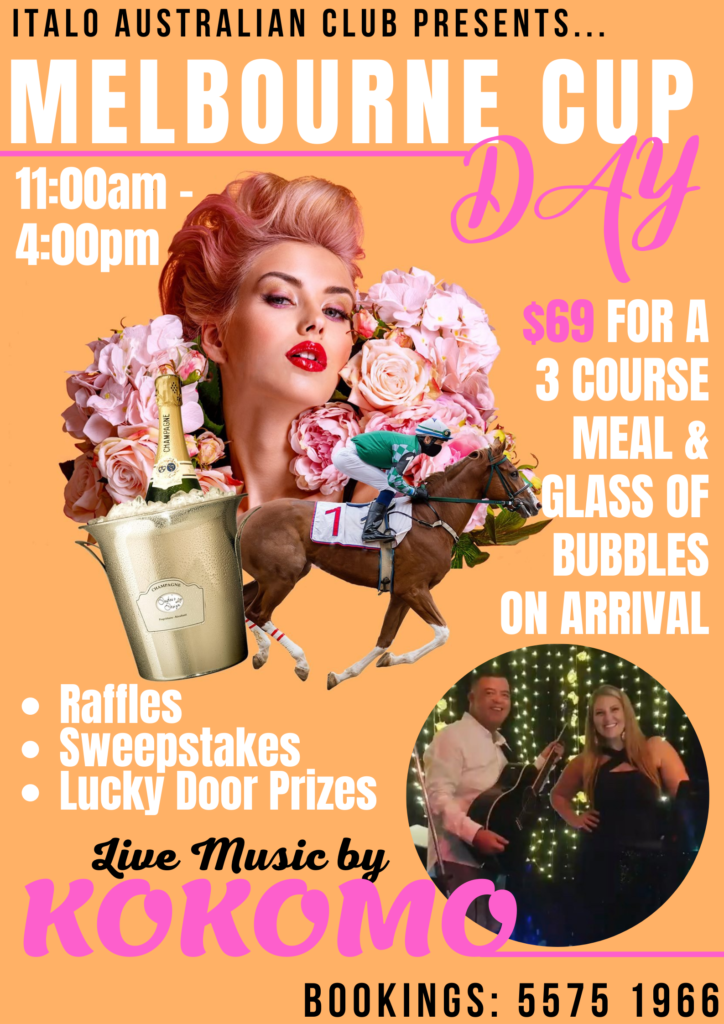 Melbourne Cup Day – Tuesday 2nd November, 11am-4pm
Get your outfits ready, put it in your diaries NOW…we have THE best day planned for you here at The Italo Club.
Doors open at 11am…
Be welcomed with a complimentary glass of champagne.
Then enjoy a delicious 3 course luncheon.
There will be live music performed by the hugely popular 'Kokomo' (

Katie

& Vernon) singing all your requests and favourites for the day.
There will be sweepstakes, lucky door prize and amazing raffle prizes to be won.
We suggest you book your seats now….as this will be our BEST cup yet!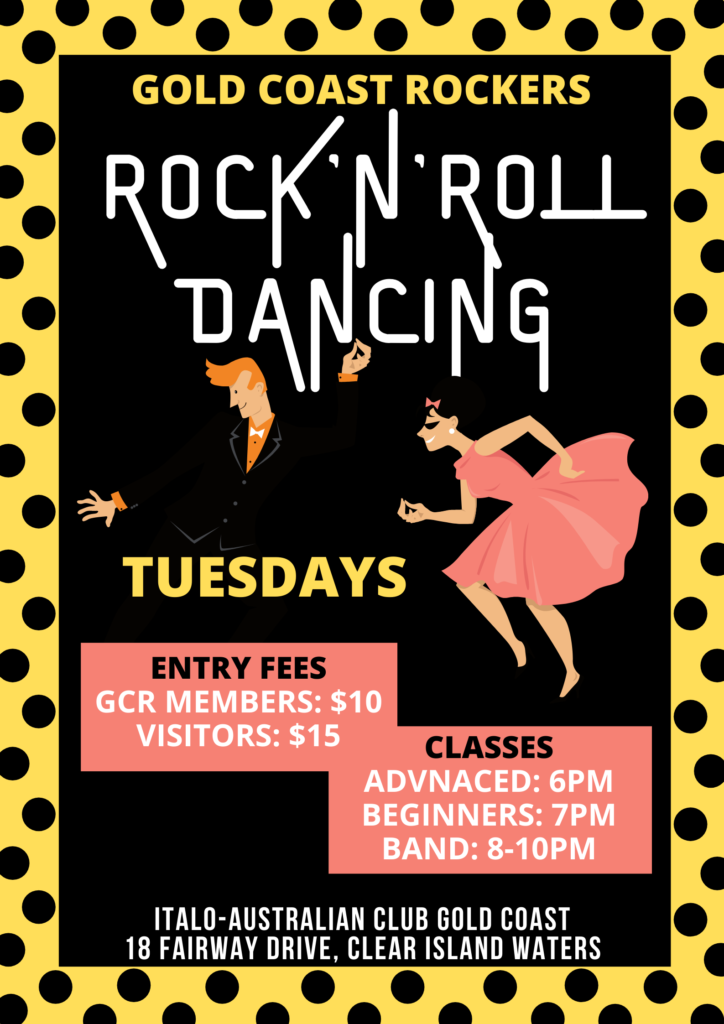 Every Tuesday night – GC Rockers, 6-10pm
Rock and Roll is alive and well at the Italo-Australian Club!
Advanced Classes start at 6:00pm and Beginners at 7pm, followed by free dancing with the Rock'N'Roll band from 8-10pm.
Bring your dancing shoes down to the Club for an amazing night of fun, music, dancing, learning and friendship!

Every Thursday night – John & Lotti's Karaoke Party, 6-10pm
We've been loving our Karaoke nights…after being in lockdown I'm sure you're all hanging to get out and jump on stage!!!!
John & Lotti host a great night, we would love to see you all return for some fun on stage.
It's your turn to shine on stage and be the star!!!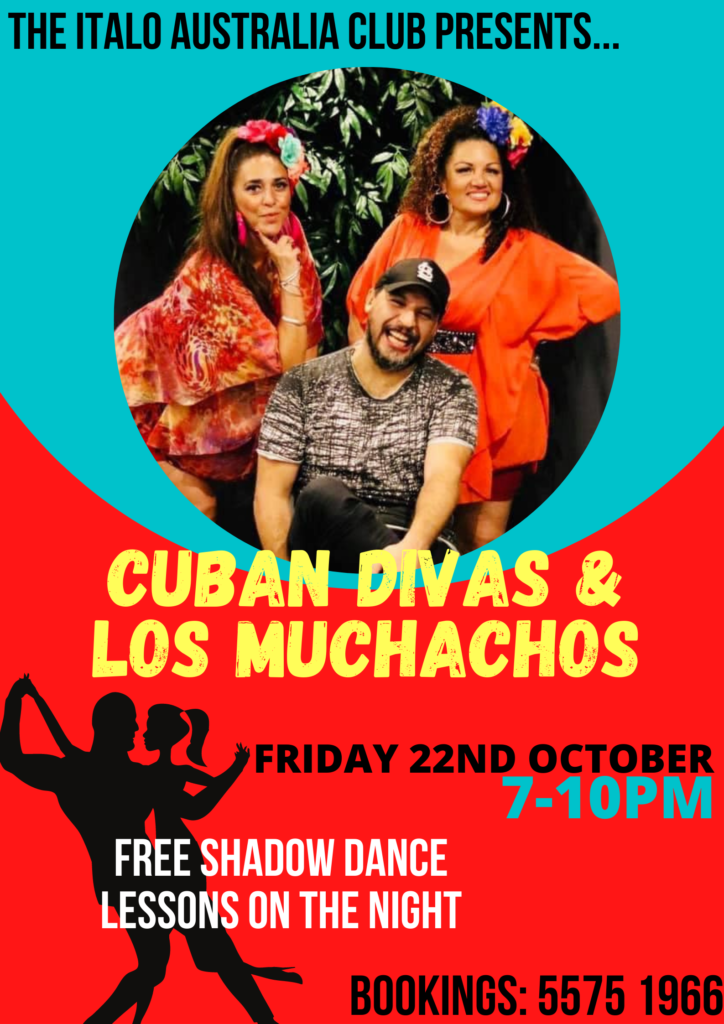 Friday 22nd October – Cuban Divas & Los Muchachos, 7-10pm
The Cuban divas & Los Muchachos are a dynamic trio that will pump out Latin hit after hit…

Catchy rhythms, great voices and even a shadow dance lesson for all levels.
Bring your friends and family down for a night that will definitely get your heart pumping.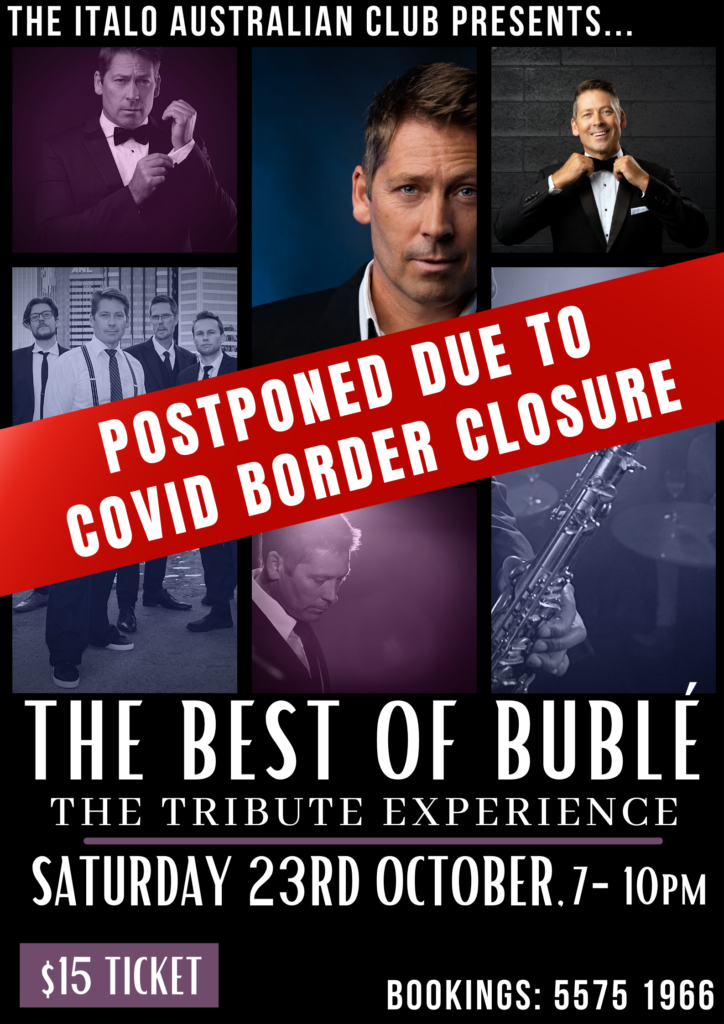 SADLY DUE TO COVID BORDER CLOSURES…..THE MICHAEL BUBLÉ SHOW WILL BE POST PONED TO EARLY NEXT YEAR.
MORE DETAILS AS WE HAVE THEM.
THANK YOU FOR YOUR UNDERSTANDING.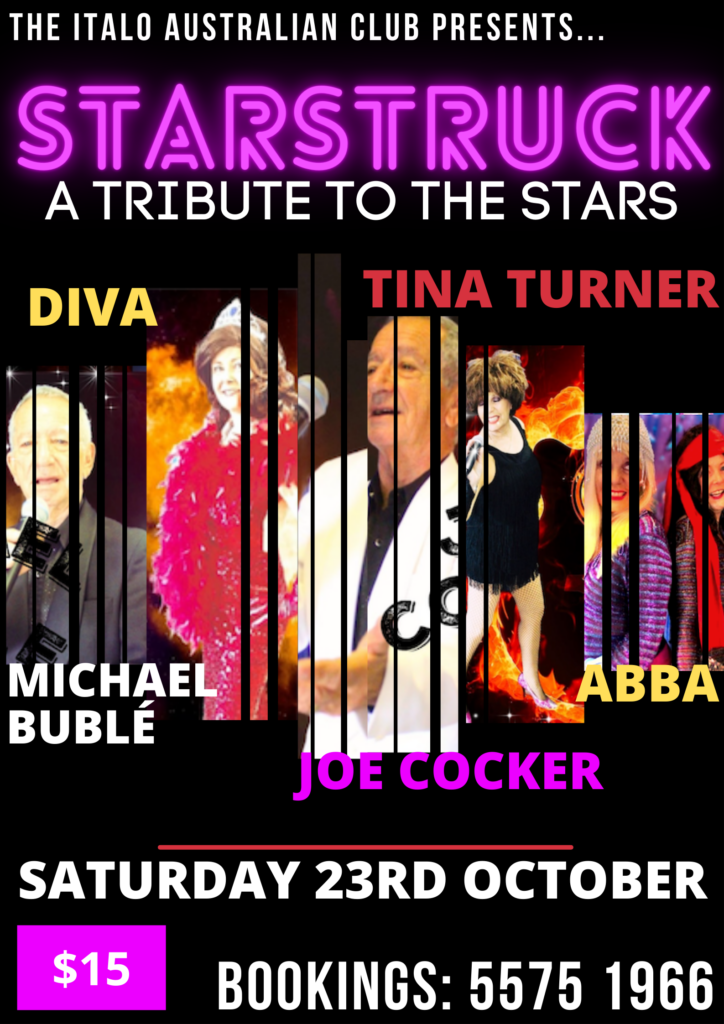 Saturday 23rd October – Starstruck, 7-10pm
Be entertained all night long with this captivating show.
We were so lucky to lock these guys in! Be starstruck by this tribute to the stars …..
Joe Cocker, Michael Bublé, Abba, Tina Turner and more!
Only $15 tickets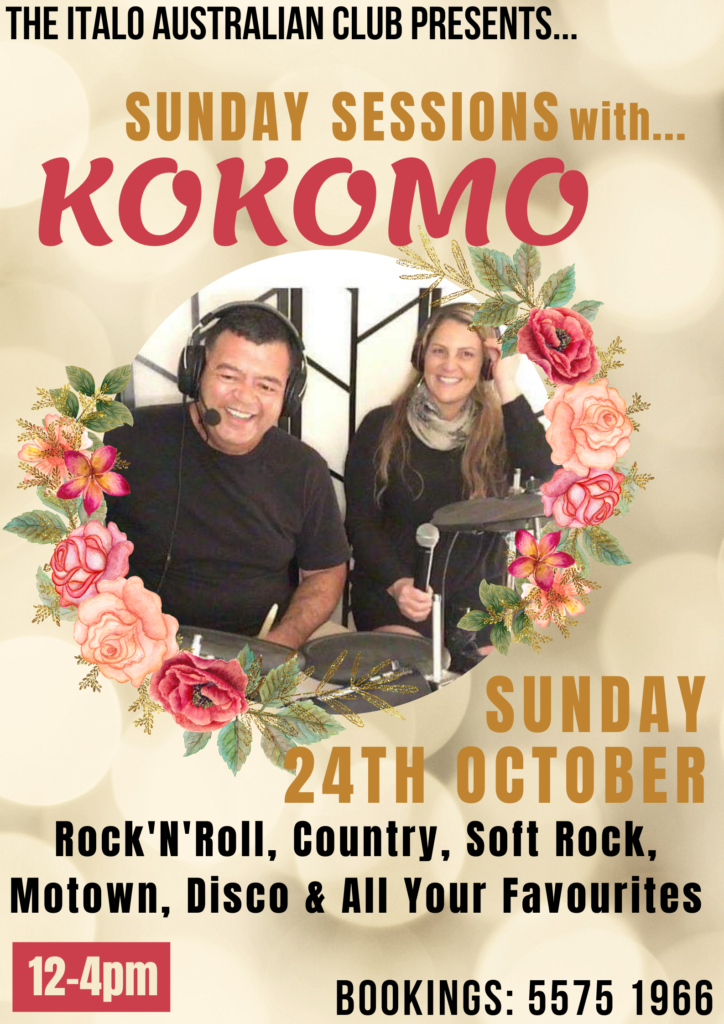 Sunday 24th October – Kokomo, 12-4pm
SUNDAY SESSIONS………with Kokomo!
Katie and Vern are back with their fun and relaxing Sundays. Come along, grab a table and enjoy the sunny outlook across the soccer fields, enjoy a yummy lunch special, a cold drink and dance the day away!
Performing from 12-4pm, Kokomo reads the crowd and keeps them happy, also taking requests.
Country, Rock'n'Roll, Motown, Soft Rock, Jazz, Abba, Disco and all your favourites in 1 day.
See You There!x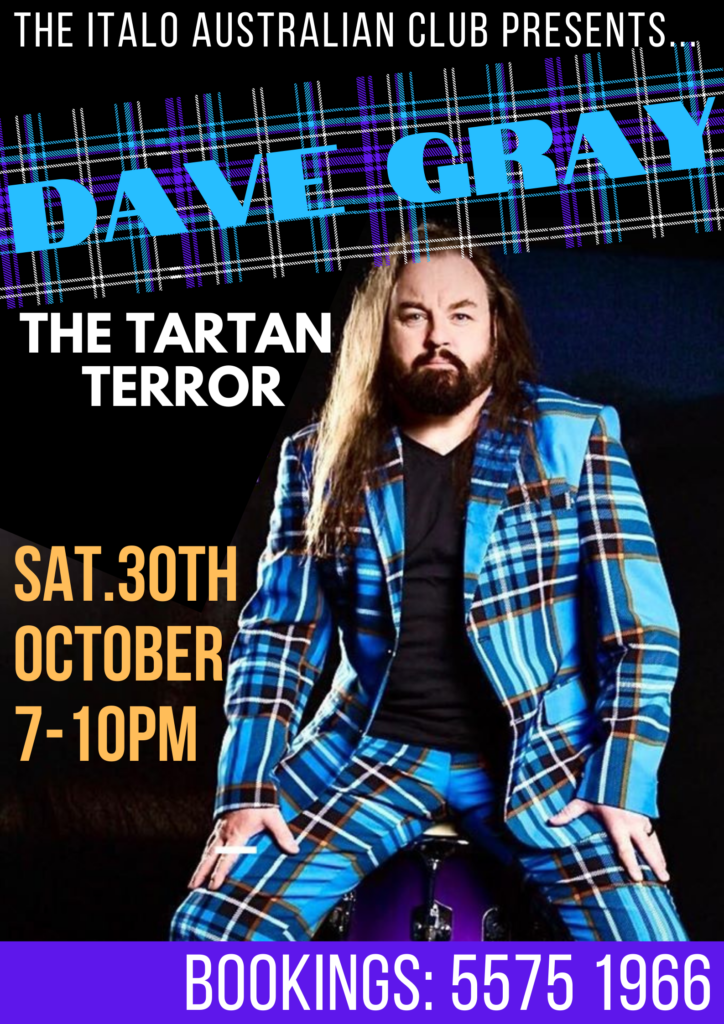 Saturday 30th October – Dave Gray, 7-10pm
"The Tartan Terror" is Back!!!
Dave Gray returns to entertain you all with his crazy dress sense and unique vocals.
Having many years of touring experience, appearing all over the world in musical theatre, endless television appearances, radio, studios, festivals, arenas, musical cruises, casinos and stadiums as part of some of the biggest tribute shows in the world.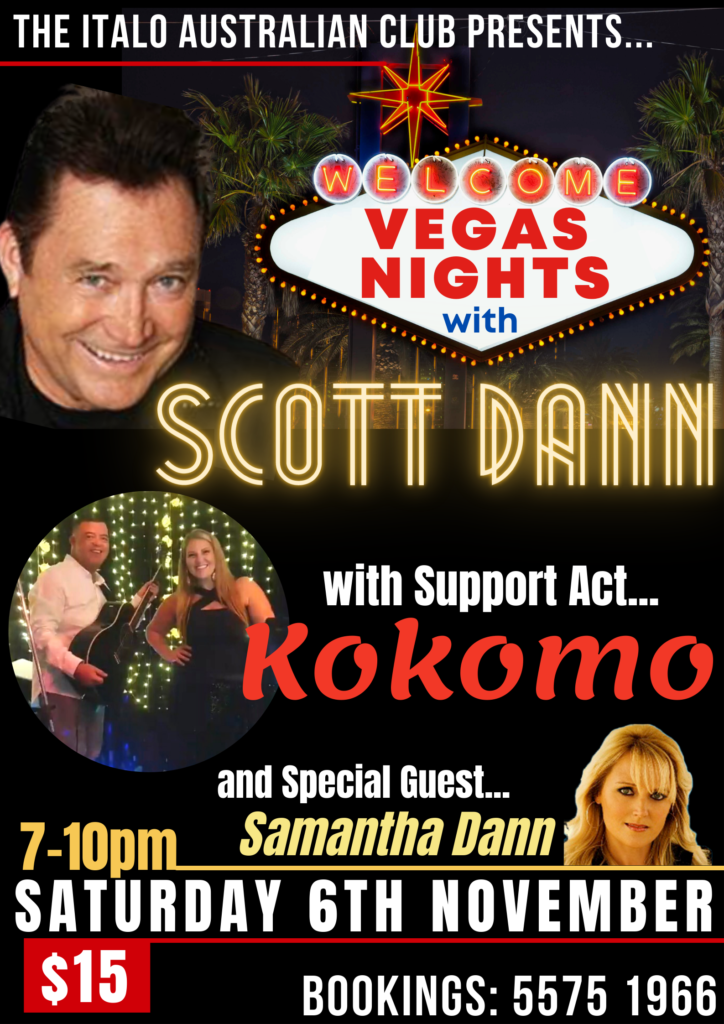 Saturday 6th November – Scott Dann in Vegas Nights, 7-10pm
BLOCK out your diary NOW!!!!!!! We have got THE show for you!
Scott Dann will be performing all the classics…
Englebert, Neil Diamond, Tom Jones, Glen Campbell, Alan Jackson, Johnny Cash, Charlie Pride, Marty Robbins, Merle Haggard and more….
Kokomo will be the support act for the evening, complimenting Scott and keeping you dancing the night away while they open and close the show, as well as providing backing vocals on stage for Scott.
Special guest appearance by the beautiful Samantha Dann ensures this will be the show NOT to miss!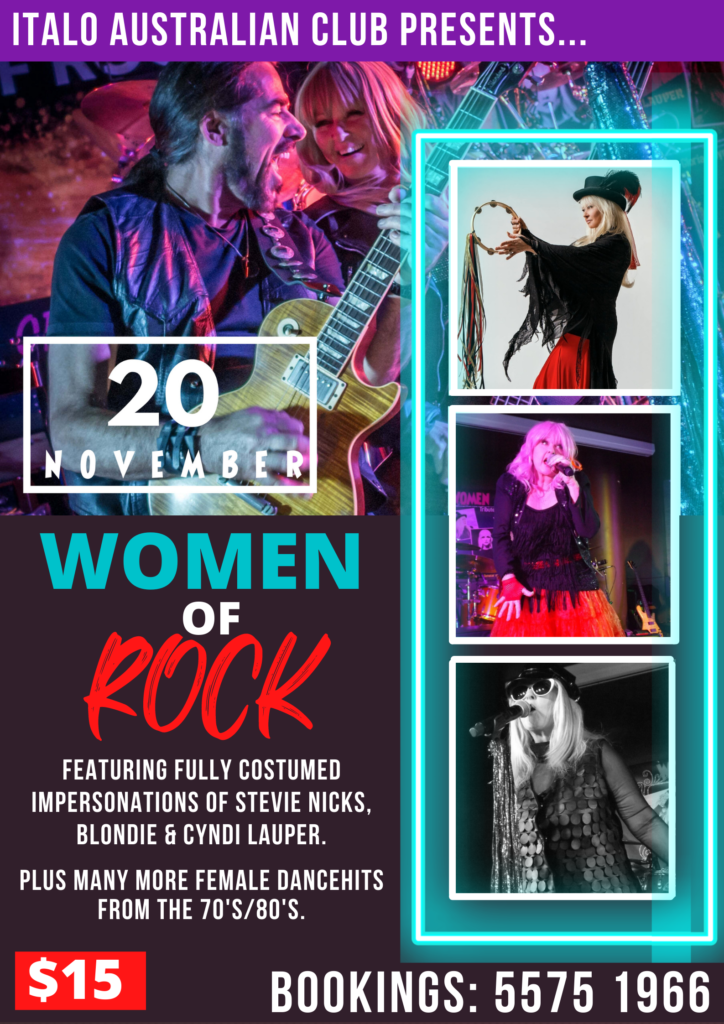 Women of Rock Show – Saturday 20th November, 7-10pm
Featuring the unique vocal talents of Jo Elbers and backed by some of Queensland's premiere musicians.
The "Women of Rock" Tribute Show will mesmerize audiences
with authentic sound alike vocals and lookalike costumes…taking you on a nostalgic journey through time when these Female Artists ruled the radio waves.
Presenting the unique Rock vocals of:
* Pat Benatar
* Chrissy Amphlett from Divinyls
* Deborah Harry from Blondie
* Cyndi Lauper
The show also includes a sizzling dance set of music from many other well known female artists of the 80's.